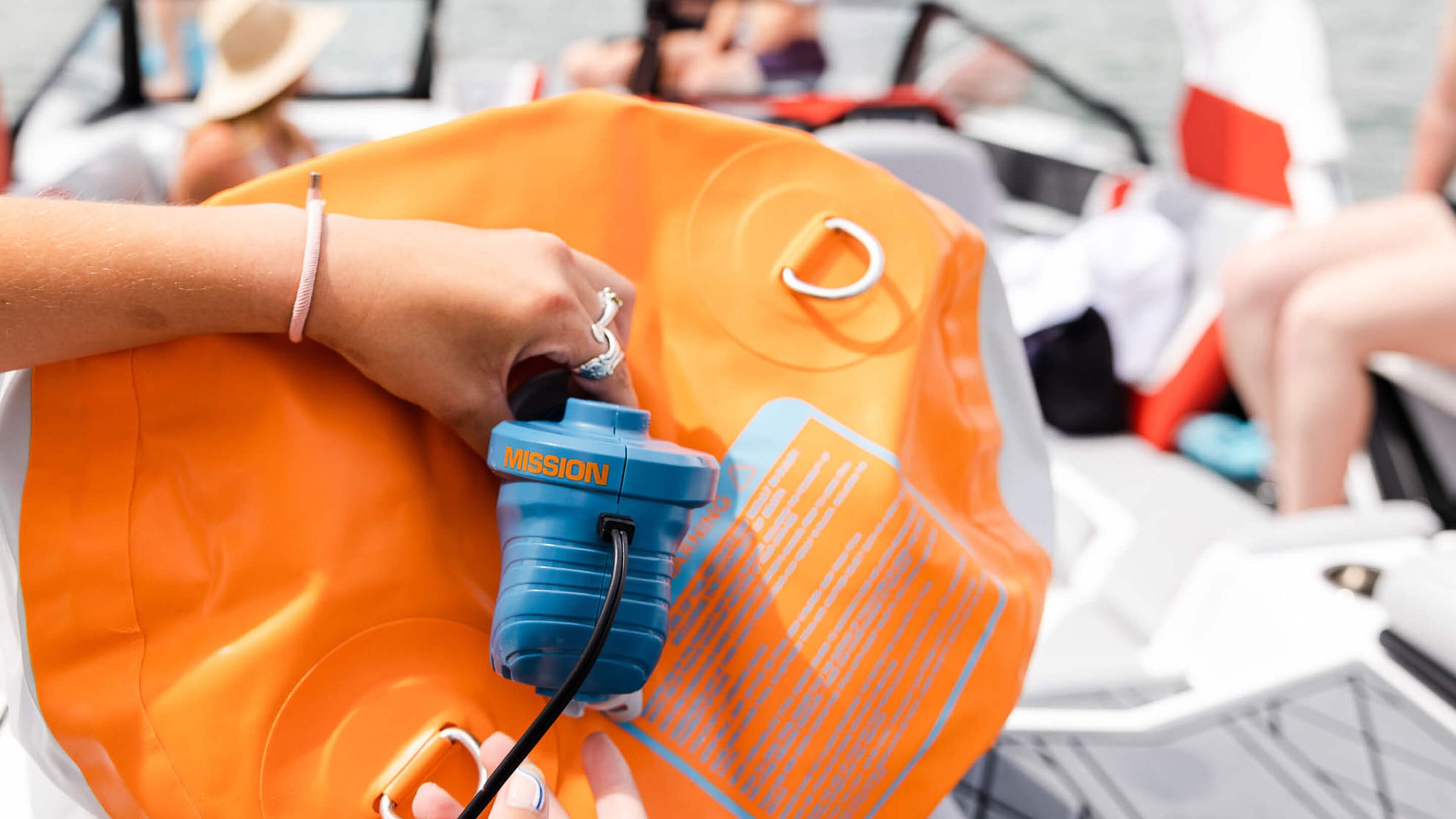 FAQ | Electric Air Pumps for Inflatables | Water Mats, iSUPs...
There are a lot of cheap air pumps out there – and that's not fun to deal with. Just like the rest of our products, we've relentlessly designed and tested our pumps to bring you the best possible experience while you're out on the water.
If you have an iSUP and want an electric pump option – the answer is simple – you'll want to get MISSION's High Pressure 12v Electric Pump. It was designed specifically for inflating iSUPs to high-pressures.
For REEF Mats, the answer starts with a question about your power source:

1. If you have a power outlet (standard 3-prong plug), our 120v AC High-Volume (Medium Pressure) Electric Pump is awesome – and fast! This pump will fully inflate your REEF Mat to the optimal pressure in no time (3.6 PSI). It's a great option if you have land power and want the quickest, one-and-done, solution.

(Note – typically on boat converters won't work. The 12v system in boats do not provide a sufficient amount of power for most high-pressure pumps. So, purchasing a 12v to 120v converter is not an option. The only solution for a robust on-board 120V AC system would be to install an inverter of sufficient wattage to provide the level of power needed by a 120v pump).



2. If you're going to be out on the boat without a 120v outlet, use our 12v DC Low-Pressure Air Pump. This pump conveniently plugs into the 12v accessory power adapter (cigarette lighter) and works quickly to blow most of the air in or out of your mat. This pump will take you 95% of the way there, filling your mat to about 1 PSI. Now, use the included hand pump to increase the mat to your desired pressure/firmness. (We recommend 2 ½ PSI for medium firmness. If you want a dock-like experience, you can increase the pressure up to around 5 PSI. Secret of the pros...3.5 PSI is perfect).

Sure, it's a two-step process, but most of our customers like this option best because this little compact pump is super-fast and does the bulk of the work for you.

3. Our 12v DC High-Pressure Electric Pump can fill REEF Mats too, but the trade-off is speed. Fill times for REEF mats will be over 10 minutes – as this pump was originally designed for inflating iSUPs to high-pressures. It uses the same connection port and is a great option if you only have a 12v DC power source, don't care about the added fill time, and don't want to be responsible for any manual pumping whatsoever!

Just be sure not to over fill your mat! Remember, the ideal PSI for REEF mats is between 2-5 PSI. This pump can go all the way up to 18 PSI.
Halkey-Roberts One-Way Check Valve.

Our iSUPs and REEF water mats are designed with the Halkey-Roberts valve (also called HR valve). This is a one-way check valve that makes the inflation and deflation of your inflatable as quick as possible because it does not let the air out while you are pumping. Halkey-Roberts valves have a pushpin (spring) inside the middle part of the valve.

This pushpin on a HR valve has two positions:

Up Position – Inflation
You inflate MISSION iSUPs when the pushpin is in the up position.
In the up position, air will not escape the valve, but the valve will let you pump air into it. Simply hook a pump into the valve and inflate your iSUP. Once you are finished inflating, simply disconnect the pump, and the air will not escape with the pushpin in the up position.
Down Position – Deflation
You deflate MISSION iSUPs when the pushpin is in the down position.
In the down position, the valve will open entirely and let the air escape rapidly. This position should only be used for deflating your iSUPs, even though you can still pump air into it in this position. (TIP: Even though air escapes quickly in the down position, having a pump with a deflation feature will suck out all of the air in no time.)

Yes.

Many of our pumps already include adapter kits with the most common inflatable connection types so you have those too. But we also sell them separately.
Which electric air pump should I get for my inflatable?
120v AC
High-Volume Pump
Have an outlet? This pump gets it done... fast. Our 120v AC high-volume, high-speed electric air pump fills REEF mats in no time. Includes an adapter kit with four other common connection types so you can use this pump for all your inflatable needs. 
3.6 PSI max.
12v DC
Low-Pressure Pump
Let this small and compact pump do the heavy lifting. Our 12v DC portable, low pressure electric air pump is a no-brainer for the boat. Inflate and deflate inflatables more easily than ever. Includes an adapter kit with three other common connection types. 
1 PSI max.
12v DC
High-Pressure Pump (iSUP)
Tired of pumping up that iSUP? This high-pressure pump does it all. Enter the desired PSI and wait. 12v DC power allows it to be used with a standard cigarette-style outlet. Includes an adapter kit with five other common connection types.
20 PSI max.
BLUE
High-Capacity Hand Pump
Designed with our REEF mats in mind. The large barrel in combination with the dual-action flow allows you to fill 60% faster. Capable of producing inflation pressures up to 14 PSI.
WHITE
High-Pressure Hand Pump
Designed specifically for iSUPs. Dual-action mode allows you to move twice as much air into your board. Then, flip the switch over to single action and pump to higher pressures. Capable of producing inflation pressures up to 28 PSI.